Shipping & Handling
Nytro Multisport ships worldwide via FedEx. Whether you need your order the next business day or wish to take advantage of our Free Ground Shipping* Nytro is here for you. Please Note, FedEx can only deliver to a physical street address. If your only option is to have your order delivered to a Post Office Box please contact Nytro Customer Service.
U.S. Express Shipping
Nytro has teamed with FedEx to offer 4 Express Shipping options at very reasonable rates.
1. Priority Overnight – Morning Delivery to most locations the next business day after ship date. Remote areas may require additional time in transit.
2. Standard Overnight – Delivery by the end of next business day after ship date.
3. 2nd Day Air – Delivery by the end of the 2nd business day after ship date.
4. Express Saver – Delivery within 3 business days after ship date.

FREE U.S. Ground Shipping
*Nytro offers FREE Ground Shipping to the Continental U.S. on all eligible orders over $100. Wheels, Bike Cases, Trainers, Tri Packages, and other Oversize Items do not qualify for Free Ground shipping unless otherwise noted. All Ground Shipments are fully insured against loss or damage and may take up to 7 business days for delivery. Most Ground Shipments reach their destination in just 5 business days or less.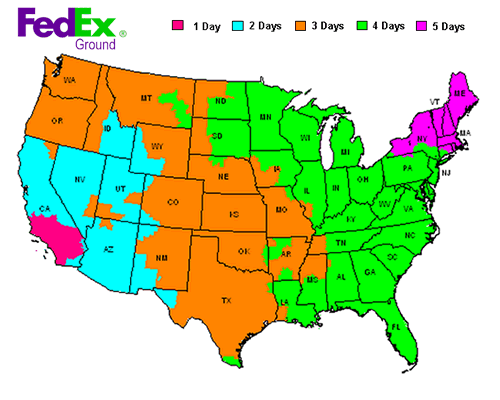 International Shipping
Nytro is happy to ship to over 100 Countries Worldwide. Shipping cost does not include customs, duties, taxes or brokerage fees which are billed at the time of delivery. Nytro is not responsible for customs, duties, and taxes or brokerage fees nor do we determine the amount these fees. Nytro recommends you contact your local customs office to determine the fees on your order. If your local customs office is unable to assist, please contact Federal Express. Nytro requires bank verification on all International Orders.
---
Nytro offers 2 International Shipping Options.
1. International Priority – Delivery may take 1-3 business days after ship date. Customs delays may result in additional time for delivery.
2. International Economy – Delivery may take 5-10 business days after ship date. Customs delays may result in additional time for delivery.

APO/FPO Military Shipping
As a Thank You for your service, Nytro offers free shipping for most of the products we sell to APO and FPO addresses via the United States Postal Office. Bikes, Frames, Wheelsets, Trainers and Bike Cases will incur a $150 shipping charge. Tracking information is not available through the USPS but all shipments are fully insured. Nytro assumes no responsibility for shipments not received that were shipped via USPS. FPO/APO shipments are processed by Nytro every Friday.

Partial Shipments/Future Ship Dates
Nytro allows you to place orders for items not in stock but currently on order with the vendor. If you order an item with a future ship date, the estimated shipping date is indicated next to the size/color of the item in the drop down options menu. If you place an order for multiple items and one or more of those items has a future ship date, Nytro will do one of the following:

1. If the future ship date is within 5 business days, we'll hold your order and ship your order all together once the item is delivered
2. If the future date is greater than 5 business days, we will ship the in stock items immediately via the shipping method chosen and ship all remaining items in a 2nd ground shipment at no additional charge.
If your shipment is lost or damaged please reply to your order confirmation
email to orders@nytro.com , or contact Customer Support at 800.697.8007 x 4.