Questions?  760.632.0006

Toll Free US  800.697.8007

Secure Online Shopping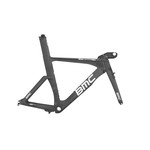 BMC Timemachine TM01 Triathlon Frameset
"Color: Black","Size: M/S"
$3,999.95 $2,999.99
Excl. tax
Available : Contact us for availability
| | |
| --- | --- |
| Brand: | BMC |
| Article number: | 7630019481786 |
| Delivery time: | Delivery date to be provided |
If BMC's super sleek Timemachine TM01 wasn't so blazing fast and addictive to ride, it would look very nice framed and mounted on a wall. Everything about this beautiful carbon masterpiece has been engineered to slice through the air, starting with its truncated tubing, which melds aerodynamics with incredible stiffness. Tripwire technology employed at the leading edges disrupts turbulence and reduces drag, much like the dimples of a golf ball. An adjustable, integrated stem/fork hinge, wheel cut-outs, integrated brakes, and an aero seatpost all increase your aerodynamic efficiency.
Technology
Aerodynamic Form - Following a two year partnership with Sauber Engineering, a newly revised SubA concept summarizes our aerodynamic advantages: 3:1 tubes with truncated profiles, crosswind-sta-ble tube shapes, hinge-fork design, a super-lean frontal area and maximum integration overall. Combined with our Posi- tion-to-Perform (P2P) rider-position system, this machine is all about free speed and for long course triathlons, time trials or solo efforts in wind-swept terrain.
Dti Dual Transmission Integration - allows the cable routing to be easily swapped between mechanical and electronic drivetrains, giving you total freedom. pplied to all of our new road frames, and even some of our new off-road platforms, the integration is clean, without loss in the aesthetic or aerodynamic departments. An understated look that performs..
Dual-purpose, A slippery-fast frame is a good start - adding a versatile, aerodynamic positioning system for the rider breaks records. The refined Position-to-Perform (P2P) system lets triathletes find their ideal contact points without sacrificing aerodynamics, no matter how aggressive or conservative their front-end position.
BMC TM01: Timemachine Premium Carbon Aero Frame
Geometry