Questions?  760.632.0006

Toll Free US  800.697.8007

Secure Online Shopping
BMC Teammachine SLR01 Module Frameset
"Color: Carbon Red","Size: 54"
| | |
| --- | --- |
| Brand: | BMC |
| Article number: | 300997005065 |
| Delivery time: | Delivery date to be provided |
The new Teammachine SLR01 Module Frameset gives you the epitome of head-turning form thanks to meticulous attention to design, perfectly married with awesome function. The Teammachine has won them all; the Tour de France, the Olympics, World Championships, and grueling Classics. Despite its success, BMC haven't been resting on their laurels: to stand still means being overtaken – to remain at the top, the best must evolve. To bring you the new Teammachine, BMC pushed the boundaries of advanced cycling technology. The result is the pinnacle of performance in competitive cycling: the world's raciest balance of lightweight, stiffness and compliance, perfected with maximal integration and Swiss design. Let there be no doubts, BMC are ready to continue to dominate the peloton.
Technology
Design by ACE Technology - Usingthis virtual prototyping process instead of traditional methods meant we could explore more tube shape options for the Teammachine. Analysis of the load distribution from the rider andinduced brake forces, led us to design an asymmetric bottom bracket and chain stays as well as a beefed-up brake directbrake-mount section. Asymmetric tube shapes enable us to continue to deliver the superior ride experience the Teammachineis famous for.


Ultra-lightweight premium carbon - Once ACE Technology did its job to define the perfect tube shapes, our Impec Lab technicians scrutinized carbon lay-upmethods to define the strongest yet lightest construction for the Teammachine. With every injection of Wattage to its pedals the Teammachine proves that it is not just a marketing claim – it's acompetitive advantage.


Integration -The Teammachine's high level of integration has an additional benefit: dirt and delivera very clean look. On the Teammachine our engineers cleverly nested the Di2 junction box out of sight within the frame, it also has an internalcable-guiding system which makes servicing easier andprevents annoying rattling. If your friends didn't have bike envy before, they definitely will now.
BMC Teammachine 01 Premium Carbon
3T Ergonova Team Handlebar / Fizik Bar Tape
Fizik Antares R3 Carbon Saddle
BMC RSM01, w/ computer and camera mount
Teamachine SLR01 "D" Premium Carbon, 15mm offset
Geometry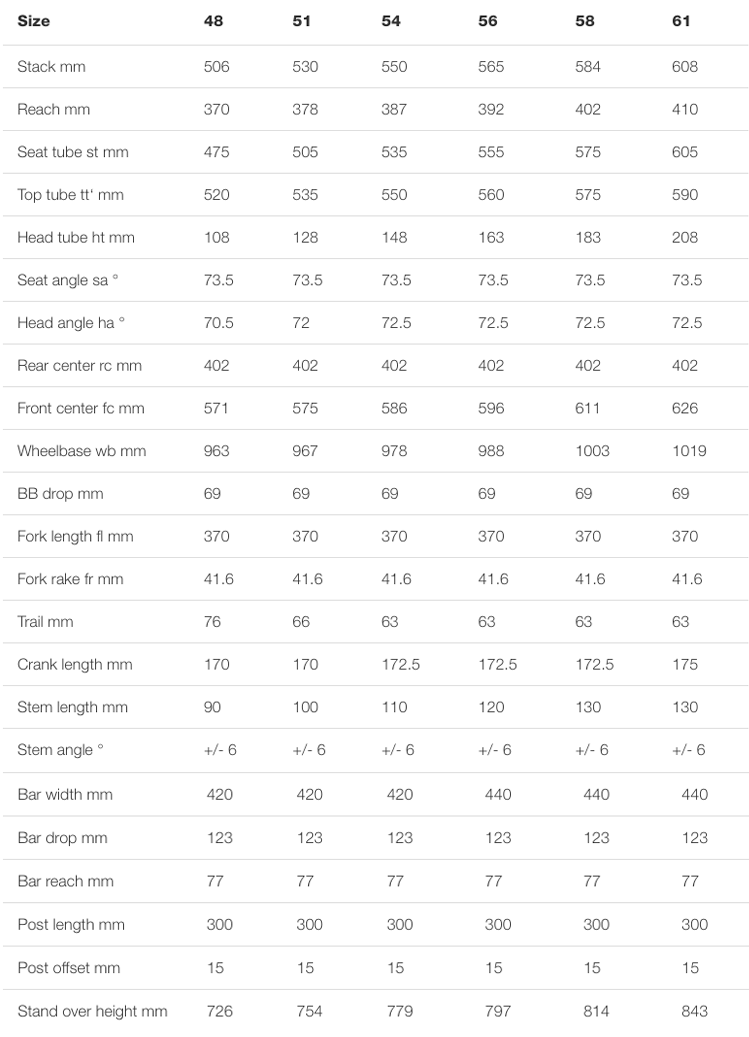 Specifications
| | |
| --- | --- |
| Frame: | Teammachine SLR01 / ACE Technology, 01 Premium Carbon |
| Fork: | Teammachine SLR, 01 Premium Carbon |
| Rear Derailleur: | - |
| Front Derailleur: | - |
| Shifters: | - |
| Crankset: | - |
| Cassette: | - |
| Chain: | - |
| Handlebar: | 3T Ergonova Team |
| Stem: | BMC RSM01, w/ computer and camera mount |
| Brakes: | - |
| Seatpost: | Teamachine SLR01 "D" Premium Carbon, 15mm offset |
| Saddle: | Fizik Antares R3 Carbon |
| Wheels: | - |
| Tires: | - |
| Weight: | - |
| Gender: | Unisex |
| Year: | 2018 |