The R Series was "incredible" at Paris-Roubaix. "It was a crazy race, but I loved every minute of it.
The R series from Cervelo has won Paris-Roubaix, the Tour de France, and many other WorldTour races but Cervelo felt it was time to reinvent this classic road bike. The new series makes significant improvements across the board and has already been used with great success at the 2017 Giro d Italia by winning a stage. We've broken down the top ten things you need to know about the R series bikes from Cervelo.
1. Comfort.
Road riders no longer equate comfort with soft, slow bikes. Extra vertical compliance can reduce fatigue and boost power output, which is why Cervelo has widened tire clearance for the new R Series and developed a compliant aero seatpost. Wheel clearance for the new R Series has been widened by 4.5mm to allow for a maximum tire width of 28mm.
2. A Perfect Fit For everyone.
Data-driven fitting protocols and TT-like positions are fuelling a new emphasis on fit. One of the triumphs of the new R Series: Providing the ideal fit for every high-performance rider, from the pro fit developed for Team Dimension Data to Cervélo's renowned race fit.
3. Handling & Stability.
A new handling geometry enhances stability and, in turn, rider confidence, while disc brake technology delivers superior braking performance, extra lateral fork stiffness, and improved alignment, ease-of-use and safety. Responsive handling and confidence-inspiring stability are perfectly balanced thanks to a lower, stiffer bottom-bracket, extended wheelbase, and consistent trail.
4. Stiffness & Weight.
Cervelo's stiffest-ever road frames are tuned to a range of riding styles. The R5 is 21% stiffer at the headtube and 13% stiffer at the BB, and the R5 Disc is 18% and 26% stiffer. As climbing weapons, the R3 and R3 Disc are 10% and 16% lighter. New ultra-lightweight shapes deliver a 14-gram aero improvement while fortifying cross-sections to improve stiffness.
5. More Aero Than Ever.
The new R5 boasts a 44-gram aero improvement thanks to an end-to-end enhancement package. With a different fork, seatpost and cockpit, the R3 delivers a 17-gram improvement. The R5 and R5 Disc's sleekly integrated bar and stem delivers a 30-gram aero improvement while allowing for internal electronic routing and easy computer mounting.


6. Maximum Tire Width For Comfort.
The benefits of running larger tires are well documented, aiding comfort through greater air volume and providing improved levels of rolling resistance. As such, manufacturers are increasing the clearance on frames to allow for larger tires and Cervelo is no exception. The tire clearance for the new R series has been widened to cater for 28mm tires while still complying with UCI regulations of an additional 4mm clearance all on sides between the tire and brakes/frame. For us non-UCI riders, there is the potential to fit even larger tires if you wish.
7. The differences between the R5 and R3
The R5 now features an aero seatpost with integrated clamp and cover as opposed to the 'classic' seatpost of the R3. The new 'D' shaped seat post adds to the aerodynamics of the bike whilst also aiding comfort and creating a super clean finished product. And while the R5's frame weight has remained the same, there are some big improvements for the R3. The rim brake version is 10% lighter than the previous version and even more impressive is the disc brake frameset version that is 16% lighter.


The Cervelo R5
The R5 makes no compromises as a race machine first and foremost. World Tour riders praise its new pro fit, stable and responsive handling, and unrivalled stiffness and lightweight design. Bernie Eisel calls it "the perfect bike for stage racing," and Omar Fraile demonstrated as much by winning Stage 11 of the 100th Giro d'Italia. Available with either disc or rim brakes, the R5 sets new benchmarks for performance, usability and confidence-boosting control.
Compared to R3
New pro fit
Cervélo-engineered all-carbon aero stem and bar
Aero seatpost with integrated clamp and cover
Lighter, stiffer and more aerodynamic
The Cervelo R3
The new R3 combines pro pedigree and elite performance to thrilling effect. Lighter, stiffer and more aerodynamic than ever, the top-shelf specs, versatile race fit and stable, responsive handling of disc- and rim-brake models will help riders crush hard hills and devour cobblestones with complete confidence.
Compared to R5
Established Cervélo race fit
Ultralight alloy stem and bar
Classic seatpost
Pro Cycling Team Feedback
Team Dimension Data for Qhubeka, Cervélo's World Tour team, provided essential feedback for the development of the R Series. Between a Mallorca training camp in early 2016 and the R5's first Grand Tour victory on stage 11 of the 2017 Giro d'Italia, Cervélo's engineers conducted hundreds of interviews and tests with DiData riders, coaches, mechanics and sport scientists.
"(The new R5) gives us a big advantage in terms of weight and is much better for mountain stages. It's also aero and super-stiff, and is definitely the perfect bike for stage racing."
"The R Series was "incredible" at Paris-Roubaix. "It was a crazy race, but I loved every minute of it."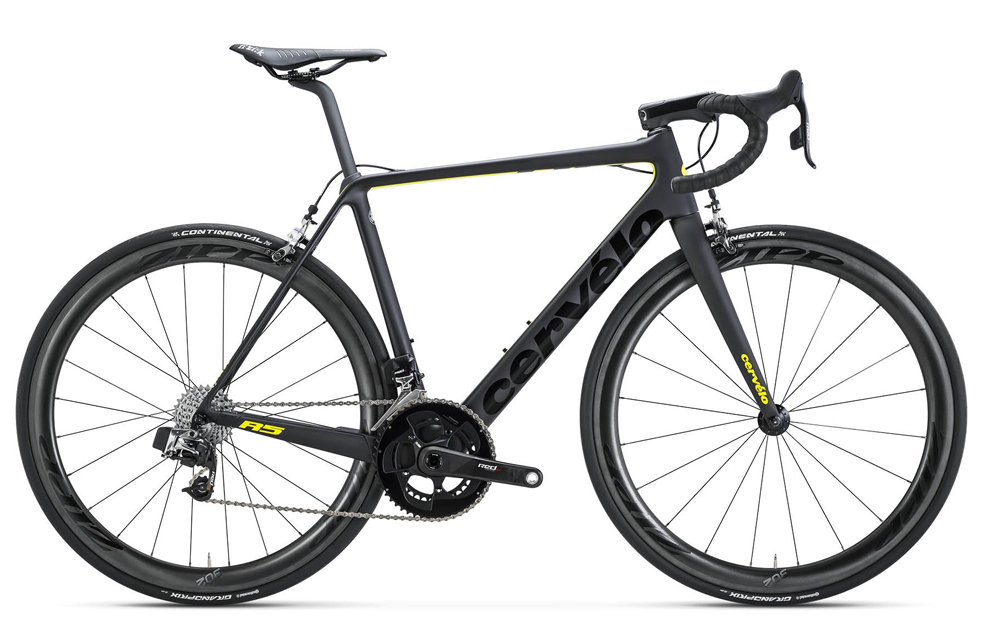 2018 Cervelo R5 Rim - Available October 2017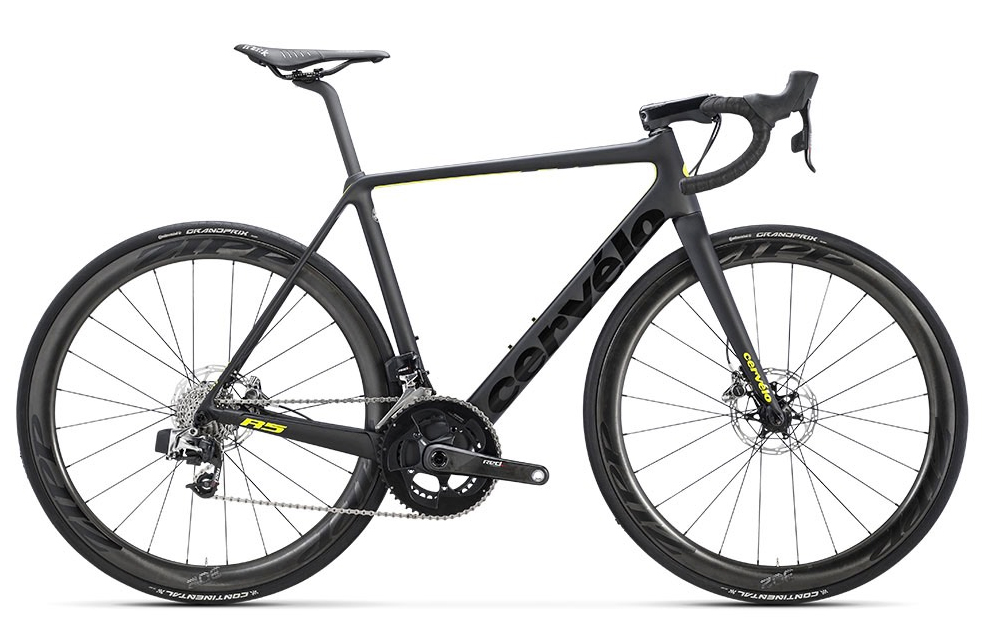 2018 Cervelo R5 Disc - Available October 2017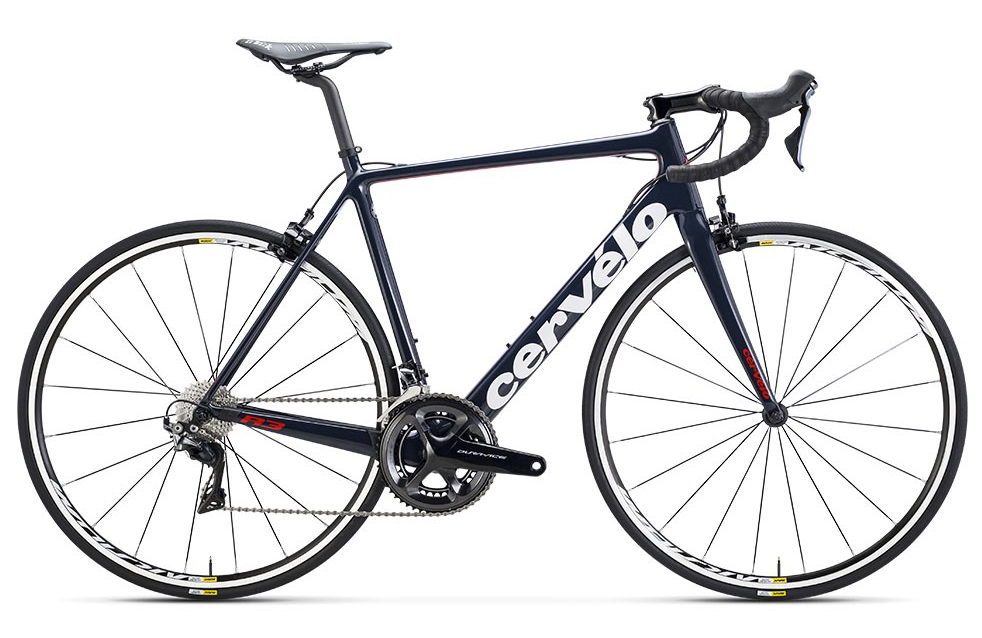 2018 Cervelo R3 Rim & Disc - Available October 2017